Above Ground Pool Packages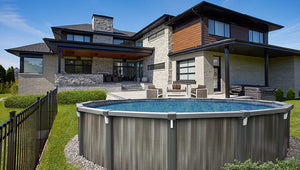 Ideal Pool & Spa has West Virginia's largest selection of above ground swimming pools with the

guaranteed lowest prices.

Shop with confidence knowing you got the best deal on your above ground pool backed by our 43+ years of experience.
Professional installation is available on all pool models in our service area (Beckley, WV + 50 miles) Click here for more details and pricing on our installation service. 
To make shopping easier, we have divided our pool models into four different, distinct categories. Each model is labeled at the top left corner with a starburst indicating the category.  Please see the category definitions below:
"GOOD" - A budget-friendly complete above ground swimming pool package.  These models will contain all the components found with any quality above ground pool such as a coated steel wall and frame, long warranty and all the accessories you need to get started in your new pool.

"BETTER" - These pools will have everything you will see in the "good" category, but with value-added benefits such as high end design, longer warranty, heavier wall, bigger frame, taller wall, better wall & frame coatings, better liner and better accessories all at a low cost.

"BEST" - These are our best models.  Pools in this category are some of the best above ground pool models available in the marketplace.  In this category you will find the best looking and best quality models combined with the best accessories.

"ULTRA" - Pools in this category will make you say "wow" at the quality. All models in this category are considered the best above ground pools in the industry
Above Ground Pool Packages